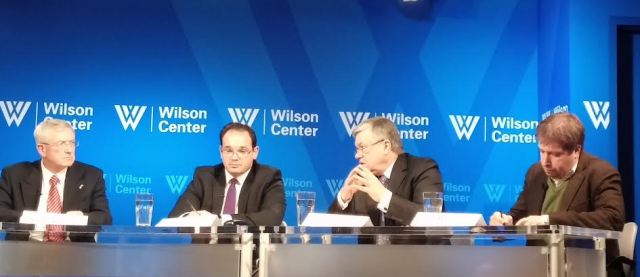 On January 29, the Wilson Center hosted the panel discussion "Security Challenges in Europe in 2015". The panelists included Martin Dahinden, Ambassador of Switzerland to the US, John Milton Cooper, Senior Scholar Professor Emeritus, University of Wisconsin, Vladimir Jovičić, Charge d'Affaires, a.i. Embassy of Serbia to the US, Oleksandr Chalyi, Former First Deputy Minister for Foreign Affairs of Ukraine and Maxim Trudolyubov, Fellow, Opinion Page Editor, Vedomosti Daily, Russia.
The discussion aimed at providing a broad view of European security challenges in 2015. Particular emphasis was placed on the priorities of the Swiss Chairmanship of the OSCE and what remains to be done following the transition to Serbian Chairmanship.
Prof. J. M. Cooper addressed Switzerland's role in international diplomacy in historical perspective. Amb. Dahinden pointed out that 2014 was important for European security, marked by the start of the crisis in Ukraine and two important historic commemorations: 100 years since the outbreak of WWI and 200 years since the Congress in Vienna. Regarding the situation in Ukraine, amb. Dahinden stressed that OSCE represents an excellent framework for building trust, openness and mutual accountability. Mr. Jovičič presented the joint Swiss-Serbian model of Chairmanship that provided for institutional continuity and stability. He laid out Serbian priorities and emphasized that in 2015 Serbia will continue to serve as an honest broker, particularly related to the crisis in Ukraine. O. Chalyi praised the role of the Switzerland Chairmanship for creating the Trilateral Contact Group, Special Monitoring Mission and the Observer Mission for control of the Ukrainian – Russian Border. Mr. Trudolyubov gave an overview of the Russian foreign policy and security perspective.
The panel was fallowed by Q&A
This event was organized in partnership with the Embassy of Switzerland and Europa Institute at the University of Zurich.