Cooperation with US in mining, energy, ship building @ 18 September 2013 04:34 PM
---
Belgrade/New Orleans, 18 Sept 2013 – Prime Minister Ivica Dacic said that trade between Serbia and the United States is constantly rising and currently exceeds €300 million, but it could double by the end of the year thanks to exports by Fiat.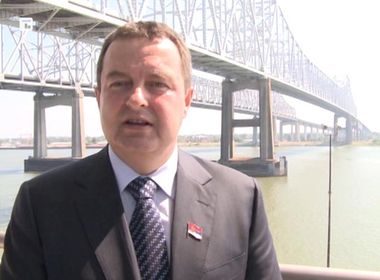 At the end of his visit to New Orleans, Dacic told Tanjug he is pleased with the visit, which focused on a business conference for US companies interested in investing in Serbia.

The conference "Invest in Serbia – New Orleans 2013" was attended by more than 35 companies and resulted in important contacts being established, creating options for cooperation between the two countries in mining, energy and ship building, he said.

Dacic stated he met during his stay in New Orleans with officials of companies interested in investing in Serbia, pointing out Freeport, which is already surveying ore deposits in Bor, east Serbia, Chevron, which is interested in oil shales deposits, and General Electric, which could invest in the Serbian railways.

It was agreed that Freeport officials would come to Serbia. They already invest around €15 million a year to survey the area around Bor for any ore deposits, and the goal is to get that figure up to €25-40 million next year, Daic said.

General Electric is interested in building or buying a factory that would make train engines and train cars for Southeast Europe, the prime minister noted.

During his stay, he visited the port of New Orleans, which is one of the largest ports in the world, and said that Serbia's honorary consul Greg Rusovic, who had helped establish contacts with US companies, was one of the top people there.

We agreed for Rusovic to come to Serbia with an expert team and see what could be done. Serbia is using little of the Danube's potential, especially for the industry, Dacic added.

During his visit to the United States, Dacic met with New Orleans Chief of Police Ronal Serpas, who will preside over the International Association of Chiefs of Police in 2015.

---