Vucic takes over duty of Prime Minister @ 29 April 2014 11:58 PM
---
Belgrade, 29 April 2014 – The former Prime Minister Ivica Dacic handed over today this duty to the newly-elected Prime Minister Aleksandar Vucic at the Serbian government building.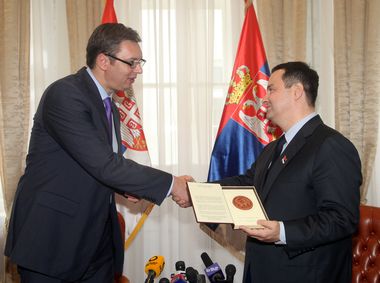 Prime Minister Vucic and Dacic, who in the new government has the position of Deputy Prime Minister and Minister of Internal Affairs, stated on this occasion that there is a lot of work ahead of Serbia and that the aim of this government is to do something for the country by which it will be remembered by future generations.
They announced a rich diplomatic activity and especially referred to yesterday's visit of EU High Representative for Foreign Affairs and Security Policy Catherine Ashton, who expressed support to the new government of Serbia.

Vucic recalled that in 2015 Serbia will preside over the OSCE, which means that the Minister of Foreign Affairs will have a lot of work.

He announced that European Enlargement Commissioner Stefan Fule and Sheikh Mohammed bin Zayed will soon visit our country.

Dacic also gave Vucic the Report on the government's work and expressed satisfaction with their mutual cooperation to date and results of the previous government's work over the last two years, and first of all with the fact that Serbia's image in the world has been improved.

He noted that he will have a lot of work on his new position, and recalled that Serbia will chair the OSCE and that the Summit of the countries of the EU and Western Balkans will soon be held in Greece.

Dacic announced that a meeting of Council of Europe foreign ministers will soon be held, at which the situation in Ukraine will be looked at.

He presented Vucic with a replica of a mythological creature from the Ravanica monastery, which has the body of a lion and the head of an eagle.
---