AMBASSADOR MATKOVIĆ VISITS CHICAGO @ 19 May 2015 05:54 PM
---
Chicago, May 16, 2015 - H.E. Mr. Đerđ Matkovic, Ambassador of Serbia, visited Chicago on 14 and 15 May 2015. During his stay Amb. Matkovic had meetings with Deputy Governor of the State of Illinois Ms. Evelyn Sanguinetti and Deputy Mayor Mr. Steve Koch on further cooperation between Serbia and Illinois, as well as between Sister Cities Belgrade and Chicago.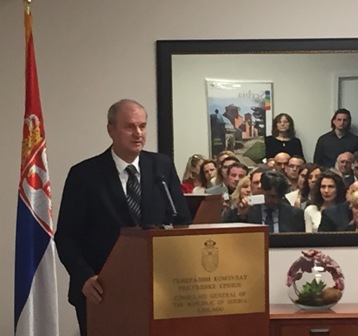 He also met with the representatives of the Academy of "Sveti Sava", paid a visit to the Serbian Parochial school in Chicago, the Holy Resurrection Orthodox Cathedral and Serbian-American Museum St. Sava.
The visit was specially focused on strengthening economic ties with the Serbian Diaspora. The Serbian-American Chamber of Commerce and the Consulate General of Serbia in Chicago organized a meeting between the ambassador, business people and representatives of the Diaspora titled "The importance of the Diaspora in the economic cooperation with Serbia - Possibilities and Challenges". Ambassador Matkovic conveyed readiness of the Embassy and the Consulates General of Serbia in the US to assist all members of the Diaspora interested in investing in Serbia or doing business with Serbian companies.
---